Honda was founed on September 24, 1948 by Soichiro Honda in Japan.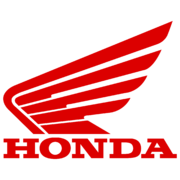 Soichiro 10 years earlier had developed his own design for piston rings which he sold to Toyota. Post WWII and with the destruction of his original factories there was a market for small transportation vechiles. He founded the Honda Motor Company Ltd and started developing scooters and motorcycles for the Japanese market.
Honda was popular for developing 4 stroke dirt bikes until the release of the Elsinore. Elsinore is the name for Honda's 2 stroke motorcycle engine which first appeared on the market in 1973. The name "Elsinore" was branded on all 2 stroke motorcycles until 1982. The dirt bikes are still based on the same design and engine if it is a 2 stroke model but the marketing name has long gone.